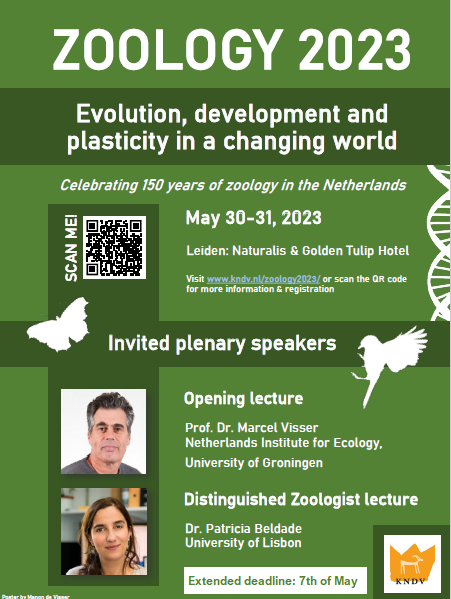 We are pleased to invite you to attend our 150th anniversary congress ZOOLOGY23 held in Leiden, The Netherlands. Please register below to participate.
Register online for the event.
Abstract submission & registration deadline has been extended until the 7th of May, after this date accommodation will no longer be reserved and registration fees will be increased by € 20,00.
Note: (1) Member-rates are both for members of the Koninklijke Nederlandse Dierkundige Vereniging (KNDV) and the Royal Belgian Zoological Society (RBZS). (2) Registration fees will be increased with a € 20,00 charge late registration fee after the 7th of May (extended deadline). (3) Cancellation is accompanied by a cancellation fee of € 5,60 to cover incurred administration costs.
Additional information
Topics of the sessions will be decided upon based on the submitted abstracts.
Tentative conference planning
Tuesday May-30th
12.30 – 13.30
Plenary opening session at Naturalis Auditorium, including keynote Prof. Dr. Marcel Visser
14.30 – 19.00
Sessions at Golden Tulip venue, including 2 rounds of parallel sessions followed by a poster session with drinks.
19.00
Dinner
Wednesday May-31st
9.00 – 14.15
Sessions at Golden Tulip venue, including 3 rounds of parallel sessions and lunch.
15.00 – 17.00
Plenary closing session at Naturalis Auditorium, including the distinguished zoology lecture by Prof. Dr. Patricia Beldade and talks by Kets award winners Antoine Flandroit and Noelia Valderrama.
Abstracts of keynote presentations
Prof. Dr. Marcel E. Visser
Department of Animal Ecology, Netherlands Institute of Ecology (NIOO-KNAW), Wageningen, TheNetherlands
Evolution, development and plasticity in a changing world
Our planet is changing rapidly and species need to adapt to their changing environment. Phenotypic plasticity can play an important role as this allows the expression of better adapted phenotypes under these changed conditions. But global change often leads to the disruption of the correlation between the cues used in this plasticity and the selective agents of the phenotype, making these cues less reliable. This will lead to selection on cue sensitivity. Evolution of the developmental mechanisms underlying the trait expression is then needed, and this may be a slow process compared to the rate of global change, with potential effects at the population level. I will illustrate this with our work on the oak – winter month – great tit food chain, where global climate change has affected the phenology of these species at different rates. The phenology of winter moth egg hatching is temperature dependent and over a period of two decades genetic changes in cue sensitivity has led to egg hatching phenology to be less temperature sensitive, restoring the phenological match with oak bud burst. We analysed these genetic changes using DNA from our historical samples and compare the genes that have changed in allele frequency with the genes that we identified using RNA expression levels of eggs developing under different temperatures. In great tits, we study the phenology of reproduction combining our data from a wild long-term (1955- present) population study and experiments in temperature-controlled aviaries, making use of selection lines based on genomic selection for reproductive phenology. Our work shows that combining research on the evolution, development and plasticity is needed to understand adaptation of species in a changing world.
Prof. Dr. Patricia Beldade
Center for ecology, evolution and environmental changes, University of Lissabon
[title and abstract will follow]
Jacques Kets award winners from RBZS
Noelia del Carmen Valderrama Bhraunxs, MSc
Royal Museum for Central Africa / KU Leuven
Snailing to Success: Citizen Science approach for snail-borne diseases monitoring in Uganda
Schistosomiasis is a snail-borne disease that affects more than 200 million people globally, with 90% of cases in Sub-Saharan Africa. The lack of malacologists hinders the implementation of WHO's snail control recommendations to supplement drug treatment towards disease elimination. To overcome this challenge, we adopted a citizen science approach to snail monitoring. Trained citizen scientists collected weekly snail data at 76 sites around Lake Albert (Uganda) for 20 months. We evaluated the data quality by comparing it to monthly data collected by an expert malacologist. Our study found that there was good agreement between the expert and citizen scientists in Biomphalaria, Bulinus, and Radix snails occurrence (70-86%), with an average of 17% false negatives. The agreement for Biomphalaria and Radix increased with snail abundance, while false negatives decreased when monthly aggregating the number of snails collected by citizens. Despite the expert reporting higher snail abundance, our study found similar temporal trends in snail abundance, and the relative abundance was consistent across site types. The match between the sites with the highest Biomphalaria spp. abundance identified by both raters was consistently high (>70%) and increased over time. Citizen science has the potential to map schistosomiasis transmission sites and has benefits beyond data collection, including financial cost, informal learning, and enhanced community participation.
Antoine Flandroit, MSc
University of Mons
An Invasive Sea Spider: Investigating Population Dynamics and Gregarious Behaviour for Insights into its Thriving Success
Sea spiders, also known as pycnogonids, are a peculiar group of marine arthropods with unique biology and ethology. Despite their scientific interest, they have remained largely understudied due to the difficulty of collecting them and their very low population abundance. However, a population of Ammothea hilgendorfi was recently discovered in the North Sea (Knokke, Belgium), reaching unprecedented densities. This species is the first known invasive pycnogonid, which raises questions about its success and potential impact on the ecosystem. In this study, a 16-month monitoring program was conducted to better understand its population dynamics. Its gregarious behaviour was also investigated in various ways, as it may have played a role in its invasion success. Our findings provide new knowledge on the biology and ecological implications of this invasive sea spider.
We look forward to seeing you there!